Tenure-track
Potsdam, Germany
Apply
AWI, Alfred-Wegener-Institut Helmholtz-Zentrum für Polar- und Meeresforschung
Polar Terrestrial Environmental Systems
Telegrafenberg A6
Germany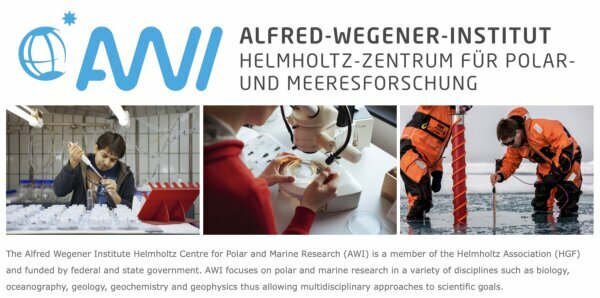 Background
As part of the joint Helmholtz Research Programme "Changing Earth – Sustaining our Future", we explore and deepen the use of the instrumental and paleoclimate record for quantitatively constraining the prediction of the future climate. The implementation of this goal will be integrated in the AWI Observation to Archive (O2A) workflow by developing and implementing statistical methods and analytic tools to optimally design, use and interpret the observations gained at AWI and beyond. 

You will develop and apply statistical tools to optimally interpret complex and small sample size environmental datasets. One example is the reconstruction of climate fields from sparse paleoclimate proxy measurements from ice-cores and sediment cores. You will further teach and consult researchers at AWI on statistical analysis. Ideally, you will successfully apply for a third-party funded junior research group to further boost the topic of climate/environmental data statistics@AWI.
 
Tasks
You will
Develop and apply Bayesian calibrations of environmental proxies to translate raw proxy 'sensor' data into physical/biological quantities
Develop and apply field reconstructions from sparse and time uncertain data that allows to integrate proxy 'sensor' data and climate fields.
Implement prototypes of digital tools such as proxy forward models / artificial core generators that can be integrated in O2A
Design optimal sampling and measurement procedures.
Requirements
PhD in statistics, mathematics, physics, informatics, or a related field.
Hands-on experience in statistical methods including the application of Bayesian models on environmental or climate data.
Excellent expertise in R to perform statistical analysis
Strong research and publication record 
Substantial international research experience (as PhD candidate and/or postdoc).
Very strong scientific track record, qualifying to provide academic leadership to members of a junior research group or showing great promise to do so in near future.
Excellent English language skills, both written and spoken
Further Information
Please contact Prof. Dr. Thomas Laepple (Thomas.Laepple@awi.de; +49(331)288-2159) for further information.

This is a full-time position, limited to 3 years with the potential to become permanent employment. It is also suitable for part-time employment. Tenure time can be shortened depending on the candidate's degree of qualification. The salary will be paid in accordance with the Collective Agreement for the Public Service of the Federation (Tarifvertrag des öffentlichen Dienstes, TVöD Bund), up to salary level 14. The place of employment will be Potsdam.
The AWI is characterised by
our scientific success - excellent research
collaboration and cooperation - intra-institute, national and international, interdisciplinary
opportunities to develop – on the job, aiming at other positions and beyond AWI
a culture of reconciling work and family – an audited and well-supported aspect of our operation
our outstanding research infrastructure – ships, stations, aircraft, laboratories and more
an international environment – everyday contacts with people from all over the world
having an influence – fundamental research with social and political relevance
flat hierarchies – facilitating freedom and responsibility
exciting science topics, with opportunities also in technology, administration and infrastructure
Equal opportunities are an integral part of our personnel policy. The AWI aims to increase the number of female employees and therefore strongly encourages qualified women to apply.
Disabled applicants will be given preference when equal qualifications are present. 

The AWI fosters the compatibility of work and family in various ways and has received a number of awards as a result of this engagement.
We look forward to your application!
---
Application Instructions
---
This employer is not accepting applications through MathHire.org. Please follow the instructions above and refer to MathHire.org in your application.
Contact Person
log in to view e‑mail address