Phd/doctoral
Christchurch, New Zealand
Apply by
University of Canterbury
School of Mathematics and Statistics
Private bag 4800
New Zealand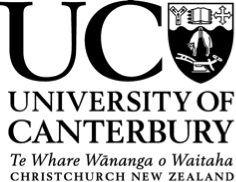 The address could not be found.
Applications are invited for a PhD position in Mathematics at the University of Canterbury, Christchurch (New Zealand) to work on the project "The geometry underlying rank-metric codes".

This project is lead by Geertrui Van de Voorde and is funded by the Royal Society of New Zealand. It revolves around the interplay between finite geometry and rank-metric codes.
Applicants should hold a Masters degree, first class honours degree or equivalent in pure mathematics. The scholarship covers all tuition and provides a stipend of 25,000NZD per year for up to 3 years. Funding is available for international research visits and conferences.

Information regarding the universities procedures and policies for doctoral students can be found at the following link: http://www.canterbury.ac.nz/enrol/doctoral/.
The starting date of the scholarship is aimed to be October 2019.
---
Application Instructions
To apply please send an email to geertrui.vandevoorde@canterbury.ac.nz with the following:
• Your CV
• University Transcripts
• A brief description of your mathematical interests and/or research experience. Please also indicate your current knowledge of 1) projective geometry, 2) finite fields, and 3) error-correcting codes.
• Contact details for an academic referee willing to support your application
For further information please contact Geertrui Van de Voorde at geertrui.vandevoorde@canterbury.ac.nz.
---
This employer is not accepting applications through MathHire.org. Please follow the instructions above and refer to MathHire.org in your application.
Contact Person
Dr.
Geertrui
Van de Voorde
log in to view e‑mail address