Université Paul Sabatier-Toulouse 3 (Université de Toulouse)
IMT (Mathematical Institute of Toulouse)
118 route de Narbonne
France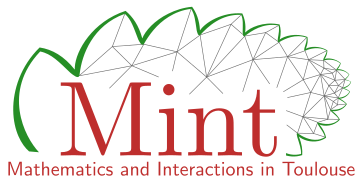 The mathematical graduate school MINT (mathematics and interactions in Toulouse) offers Master and PhD grants as part of its action program.
https://www.math.univ-toulouse.fr/spip.php?rubrique257&lang=en
Doctoral Fellowships 2021-2024 
EUR MINT offers a from 2 to 4 three-year support grants (possibly co-funded) for starting a PhD in one of the teams related to MINT. The PhD is to start in October 2021. University fees will also be offered.
The grants come in addition to the other PhD grants handled by the EDMITT doctoral school.
Closing date : 12th of March, 2021 (22h Paris time).
---
Application Instructions
Eligibility criteria :
Those fellowships are open, on a competitive basis, to French and foreign students and awarded on the basis of the quality of the academic records.
The research areas should be developed within the activities of the Institut de Mathématiques de Toulouse (IMT).
Application process :
The application website will open around January 10,  2021. Applications will be recieved online exclusively, on this site.
Required documents :
Applicant's curriculum vitae
Details of grades obtained at university from the 1st year to present
Motivation letter from the applicant
Short description of the proposed Phd subject signed by the applicant and the applicant's supervisor 
Where appropriate, a proposal for co-funding
IMPORTANT : The applicant is reponsible to make sure his application is complete prior to the closing date. Please note that fully completed applications only will be examined.
Selection process :
Shortlisting by the Ecole Doctorale Mathématiques Informatique Télécommunications de Toulouse (EDMITT) thematic commission
The final selection will be performed by the EUR MINT Admission Committee
---
This employer is not accepting applications through MathHire.org. Please follow the instructions above and refer to MathHire.org in your application.
Contact Person
log in to view e‑mail address